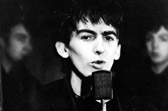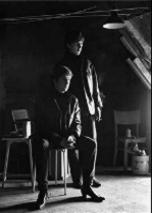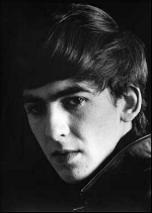 George Harrison
(born on February 25, 1943 in Liverpool, England)

The only Beatle who's childhood was not marred by divorce or death, had two brothers, Harold Jr. and Peter, and a sister , Louise. His father, Harold, was a bus driver, and his mother a housewife, who all the kids in the neighborhood knew and liked. He attended Dovedale Primary school, two forms behind John Lennon, and then Liverpool Institute, one form below Paul McCartney.

beginnings of his career :

George and Paul took the same bus to school, and soon found they had music and guitars in common. George and his brother Peter had formed a Skiffle band, and because they were so young, they had to sneak out of the house to play their first engagement. Paul introduced the skinny and pimple-faced George to the Quarrymen, who was only 14 at the time. Not old enough to join the group, George hung around with the boys, and came to idolize John, doing everything he could to emulate him. George stood in the back of the room at all their shows with his guitar. A few times he filled in for the regular guitarist who didn't show up, and the boys were also welcomed in George's house by his mother to practice and for an occasional "jam buttie", encouragement which infuriated John's aunt Mimi. Gradually, George became a member of the group, which by then had come to be called Johnny and the Moondogs.