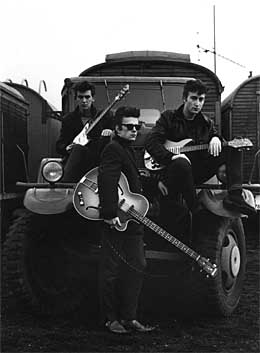 eventually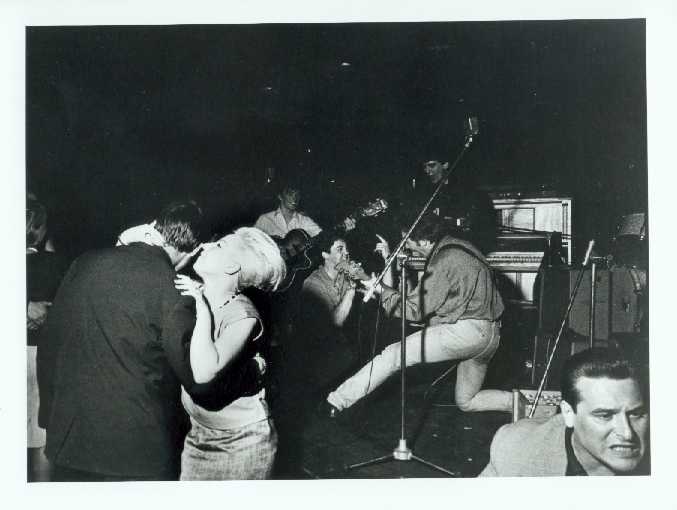 THE COMPLETE BEATLES CAVERN TRACK LIST!
Below, the complete track listing as performed by the Beatles at the Cavern. A young teenager who was a regular at the Cavern, wrote the songs down on paper and later presented it to Cavern D.J. Bob Wooler. Here is that list:
Ain't She Sweet (John)
Johnny B. Goode (John)
Sheik Of Araby (George)
Anna (John)
Kansas City (Paul)
Sheila (George)
Baby It's You (John)
Keep Your Hands Off My Baby (John)
Shimmy Shimmy (John)
Beatle Bop (Instrumental)
Lend Me Your Comb (John)
Shine (George)
Beautiful Dreamer (Paul)
Like Dreamers Do (Paul)
Shot Of Rhythm And Blues (John/Paul)
Besame Mucho (Paul)
Locomotion (John)
Slow Down (John)
Boys (Ringo)
Long Tall Sally (Paul)
Soldier Of Love (John)
Chains (George)
Love Me Tender (Stuart)
Some Other Guy (John/Paul)
Clarabella (Paul)
Love Of The Loved (Paul)
Stand By Me (John)
Claudette (Paul)
Loving You (Paul)
Sure To Fall (Paul)
Darktown Strutters Ball (George)
Lucille (Paul)
Sweet Little Sixteen (John)
Don't Ever Change (George/Paul)
Matchbox (Pete or Ringo)
Talkin' 'Bout You (John)
Dream (George)
Maybellene (John)
A Taste Of Honey (Paul)
Dream Baby (Paul)
Memphis (John)
Three Cool Cats (George)
Falling In Love (George)
Money (John)
Till There Was You (Paul)
Glad All Over (George)
Mr. Moonlight (John)
Time (George)
Hello Little Girl (John)
My Bonnie
Tip Of My Tongue (Paul)
Hey Baby (Paul)
Nothin' Shakin' (George)
To Know Her Is To Love Her (John)
Hey Good Lookin' (George)
Oh! My Soul (Paul)
Too Much Monkey Business (John)
Hey Hey Hey Hey (Paul)
Open (George)
Tutti Frutti (Paul)
Hippy Hippy Shake (Paul)
Over The Rainbow (Paul)
Twist And Shout (John)
Honeymoon Song (Paul)
Picture Of You (George)
What A Crazy World (George)
Hully Gully (John)
Pinwheel Twist (Instrumental)
What'd I Say (Paul)
I Call Your Name (John)
Please Mr. Postman (John)
What's Your Name (John)
I Forgot To Remember To Forget (George)
Quarter To Three (Paul/John)
Where Have You Been (John)
If You Gotta Make A Fool Of Somebody (John/Paul)
Rip It Up (Paul) Wooden Heat (Paul)
I'm A Hog For You Baby (Paul/John)
Hot (George)
Yakety Yak (George/John)
I'm Gonna Sit Right Down & Cry (John)
Red Sails In The Sunset (Paul)
You Better Move On (John)
I'm Henry The Eighth (George)
Roll Over Beethoven (George)
Young Blood (George)
I Remember You (Paul)
The Saints + Your Feet's Too Big (John/Paul)
It's Now Or Never (Paul)
Save The Last Dance For Me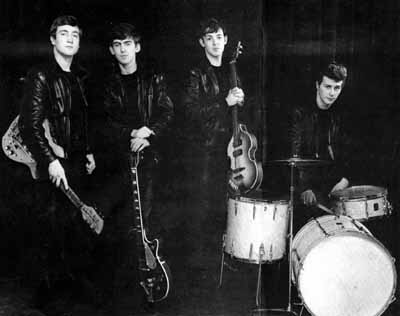 In Germany they use to get hollers of "Mach Show".
Which ment "Make Show".The Germans could not even speak english but The Silver Beatles,The Rainbows,Long John and The Moondogs,or whatever names The Beatles used they rocked them.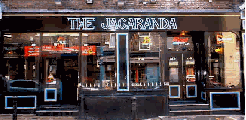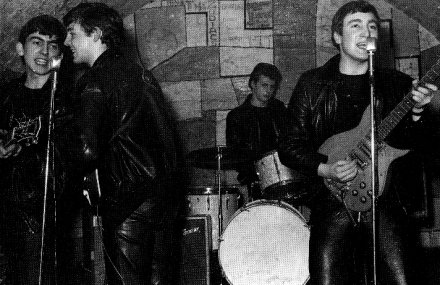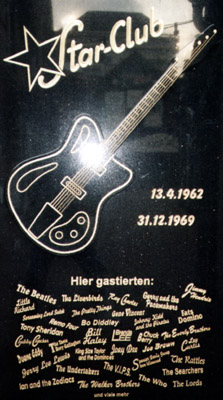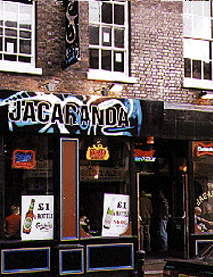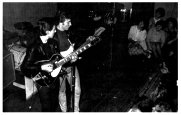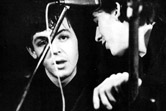 brought them there. Bruno Koschmeider, who owned some clubs in Hamburg, had met the Beatles there.


When the Beatles were in Hamburg, they played for eight hours, while when they were in Liverpool, they played in hour long sessions. They played loudly in Hamburg, and the Germans loved it. Once word had gotten out about the show, the crowds started getting bigger.


In the beginning Pete Best wasn't very good, but he started to improve. The Beatles were playing at the Indra, but when there were complaints they were making too much noise, they moved to the Kaiserkeller.


The Kaiserkeller

The Beatles would get drunk often. But at the Kaiserkeller, they were working the hardest than ever before. They were supposed to play a six hour shift, but there was another band scheduled to play too, so they took turns. It was at this time, they became interested in drugs.


The Beatles used to take pills to stay awake so they could play. Plenty of times, they had wanted to go back home to Liverpool, but they couldn't. The boys never slept or ate right. Pete, George, and Paul knew a little German, but John didn't.


The boys did fight among each other often, but it was never anything too serious. Stu and Pete were the targets of the arguments since they were the easiest to pick on. Stuart took it to heart, but Pete didn't let it bother him. The two were very popular with the audience though. Steve wore cool looking glasses, while Pete didn't jump around like John did. John was more wild than the other boys.


The fights mainly happened because they were frustrated and working hard. But most of the time, they got along. They also got along with the other band that played there. The other band was Rory's group.


The Beatles didn't like the look of Rory's drummer, which happened to be Ringo Starr. In fact, Ringo had played at the Casbah. This was their first meeting with Ringo.


Other then the friendship with Ringo and Rory's group, the Beatles made no other friends. They barely left the club and didn't try making friends with the Germans.